We would like to invite you to our booth C6649 w Ovide/Moxion at the NAB Show 2019 in Las Vegas, USA during April 8 – 11, 2019.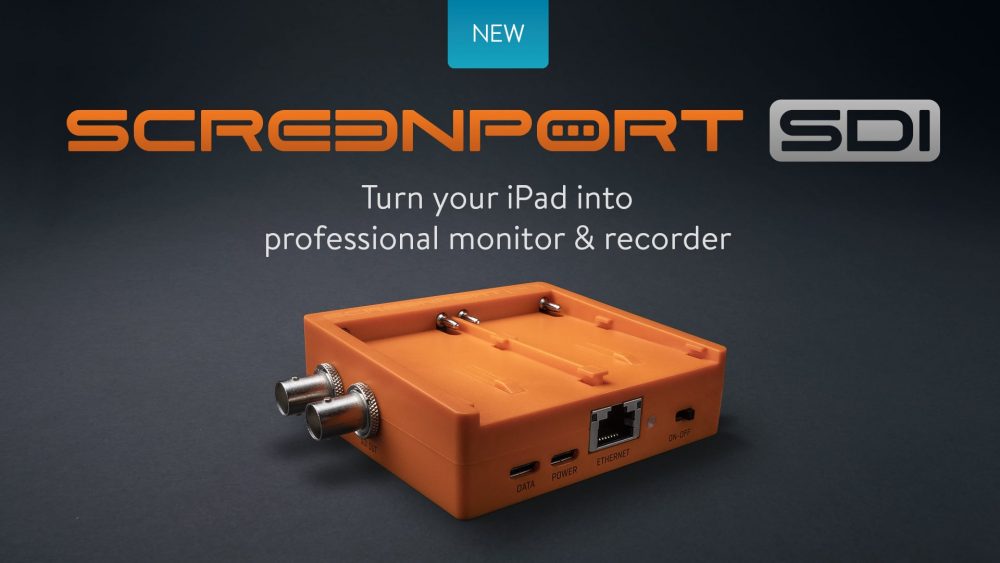 New device: ScreenPort SDI
Be the first to put your hands on the new device from IN2CORE. ScreenPort SDI will turn your iPhone, iPad or Mac into professional monitor & recorder. The perfect tool for your run & gun video assist: just connect ScreenPort SDI to your iPad and record camera output with metadata. Optionally add QTAKE Server to synchronize media with your main unit. Don't waste your time copying takes from alternative field recorders. Create your first pocket-sized QTAKE rig.
New in QTAKE
Pipelines
QTAKE has been around for 10 years and during this time it has grown beyond video assist as we know it. The major new feature of the upcoming QTAKE 1.5 is Pipelines. Pipelines will allow automation of many manual tasks including RAW files transcoding. With just a few clicks, you will be able to create custom proxy files for cloud-based review by producers, intermediate files for VFX house or audio-synced, color-corrected dailes for editorial. Export existing clips or auto-export new clips filtered by Smart Bins. Just set it up once and have everything processed in the background.
Remote Control
Another cool feature we will demo at NAB is Remote Control. Built into QTAKE Monitor, this new tool will allow you to control QTAKE recording, browsing and playback from around the set.
Pomfort's LiveGrade Pro integration
DITs can now connect to QTAKE and use it as an 8-channel HD or 2-channel 4K LUT box. But that's not all. Unlike the current destructive workflow, where camera signal gets color-corrected at DIT's rig, this new approach sends only the color grade and QTAKE can record clean log camera signal. Color correction from LiveGrade is applied by QTAKE on the fly, to allow tweaking and sharing color metadata with other units.
New in QTAKE Cloud
Two-Factor Authentication
QTAKE Cloud provides the simplest and most feature-rich solution for live streaming from set over the internet. This amazing tool used by Disney, HBO and many other big and small productions has gained even stronger security using Two-Factor Authentication.
Project Sync
The upcoming version of QTAKE Cloud adds Project Sync to allow seamless sharing of media and metadata across multiple units. This brings the QTAKE Server metadata collaboration and independent playback features to the cloud. Let us take care of your central server installation and management and get started with our zero-configuration platform in seconds.
New in MetaCoder
Generic UDP and Serial data support
MetaCoder is a unique device that allows camera metadata transfer over your existing wireless senders, such as Teradek Bolt. Now it gets even more functionality for the same price. One of the new features is generic UDP and Serial data support that allows wireless video senders to transfer small packets of Motion Control or Motion Capture data to QTAKE. Next on the roadmap is the SDK for 3rd parties to integrate MetaCoder into their products. Learn more about MetaCoder.
1-on-1 QTAKE sessions
Book your own 30 min. slot and experience uninterrupted hands-on expert training directly on the show floor. Maybe you just want to get ready ahead of the curve and get introduced to the upcoming software features & hardware devices… or to learn some of the most advanced tips & tricks? You pick the time & subject and we will be there solely for you. Book a session.
NAB Special
Visit one of the QTAKE booths (C6649 w Ovide/Moxion or C12345 Nebtek) and enjoy 10 % discount on HDx1, HDx2, HDx4 or HDx8 bundles. The offer is valid on PIF purchases throughout April 20, 2019.