The ultimate QTAKE Output Device.
QOD+ provides superior hardware solution for GPU driven video output. It converts DisplayPort output to four SDI outputs supporting all standard frame-rates, up to 60fps.
QOD+ is controlled directly by QTAKE software to provide smooth, jitter-free video output with embedded audio and timecode.
This unique custom-made device is compatible with every version of QTAKE, from HDx1 up to HDx4 or with two QOD+ devices up to HDx8/4Kx2.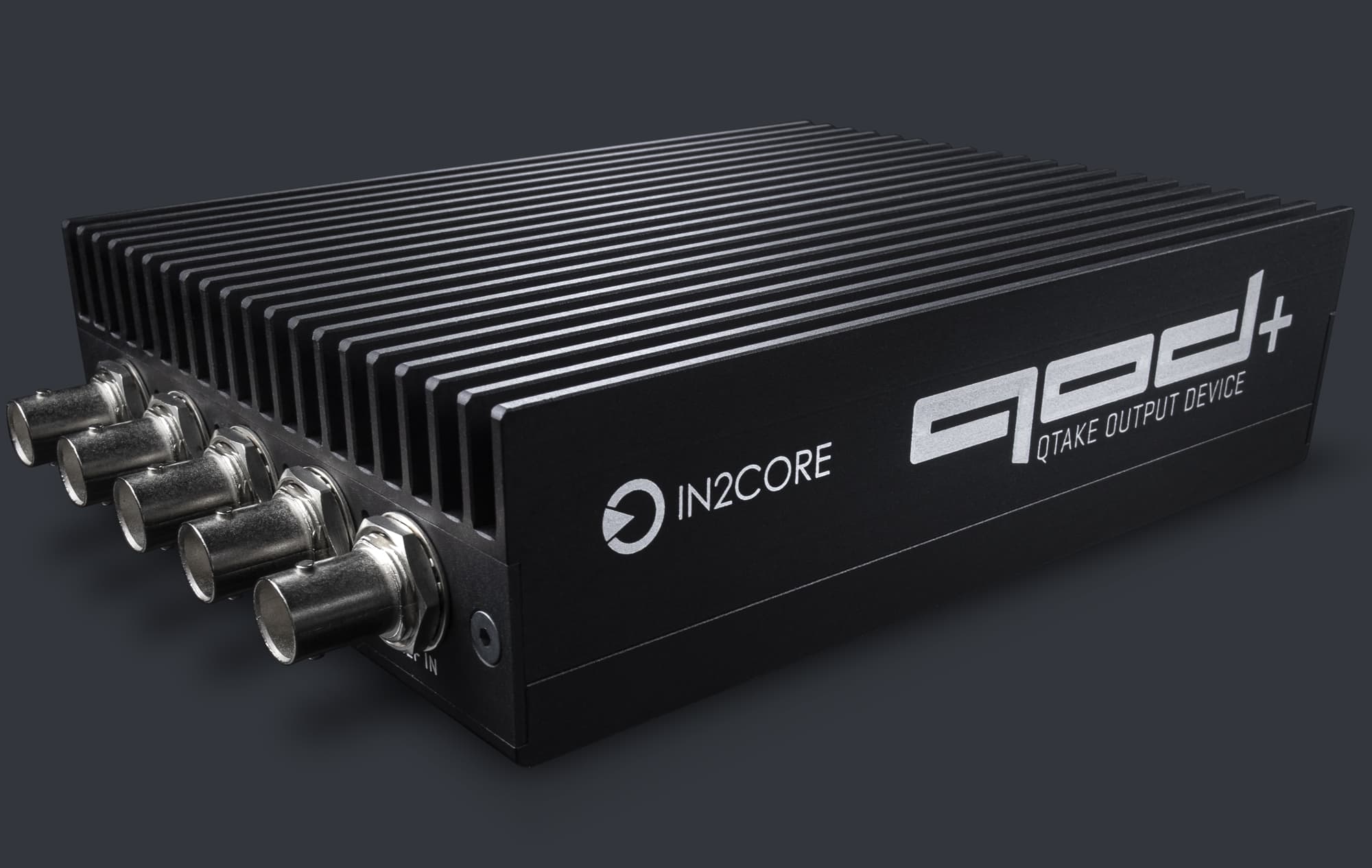 ---
Features
4 independent SDI outputs
Very low latency of just 1 frame*
SDI embedded audio
SDI embedded timecode
Thunderbolt compatible DisplayPort input
Analog audio input
Genlock input
Support for HD-SDI and 3G-SDI formats
Interlaced, Progressive or PsF output
4K output support up to 60fps
USB control directly from QTAKE software
DIP switch control for standalone operation
Single, compact, DC powered unit
Future-proof design upgradable by firmware
Fanless design for entirely silent operation
Tech specs
Video Input:
• DisplayPort with embedded audio
Reference Input:
• HD Tri-level sync
Input formats:
• HDx2 3840 x 1080, HDx3 1920 x 3240, HDx4 3840 x 2160
Video Output:
• 4x 3G-SDI with embedded audio, DisplayPort with embedded audio
Audio Input:
• DisplayPort embedded audio, 3.5mm stereo analog audio
Dimensions:
• 117 x 168 x 43mm (4.6" x 6.6" x 1.7"), Weight 780g
Power:
• Universal Power Supply (included)
• 100-240V, 50/60Hz AC input, 12V, 24W max DC output