Updated on Feb 28, 2022
✅ Recent-purchase offer update
We've updated the recent-purchase offer to provide more flexibility. Instead of rewarding the permanent license owner with more free QTAKE Pro time, the trade-in offer now yields a value that can be applied as a discount at the time of purchasing any of the 1y/3y rental plans. Moreover, any module purchased between MAR-2019 – MAR-2022 is now eligible for the trade-in offer (as opposed to the original offer where only the combination of modules purchased at the time of BASE module purchase was eligible).
This change gives you the possibility to spend the remaining license value towards a different set of modules if needed. Use the calculator at shop.qtakehd.com/2022 to see how much credit you can apply on your first 1y/3y plan purchase when any free (early-bird) QTAKE Pro time expires.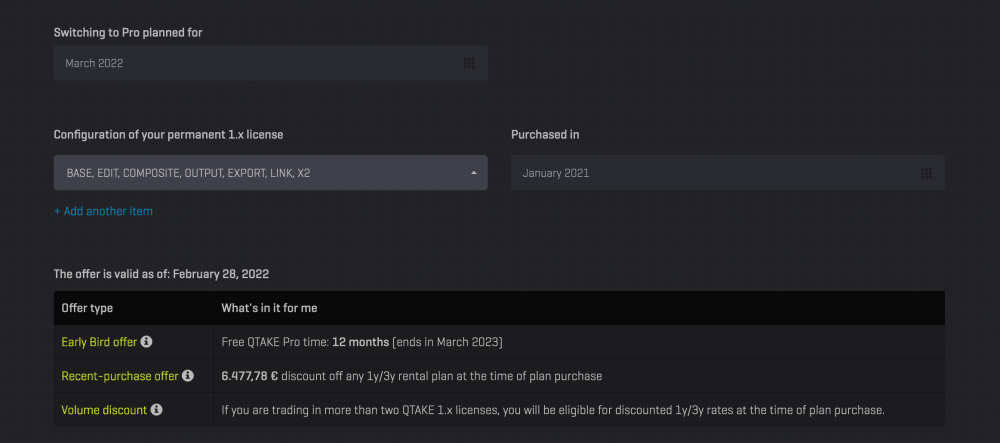 Updated on Feb 25, 2022
✅ Will it be possible to rent 1.x modules in the Shop after March 2022?
Yes. If you decide to stay on the permanent QTAKE 1.x license, you will still be able to rent additional 1.x modules as usual. For example, if you own a permanent HDx2 license, you will be able to rent a 1-90 days long STREAM, PRO, X4, etc. license from the QTAKE Rental Shop even after March 2022.
✅ QTAKE Pro rates calculator added
Visit  shop.qtakehd.com/pro to calculate short-term and long-term rates of QTAKE Pro, including your custom bundle discount. The calculator is FYI only and does not allow placing real orders.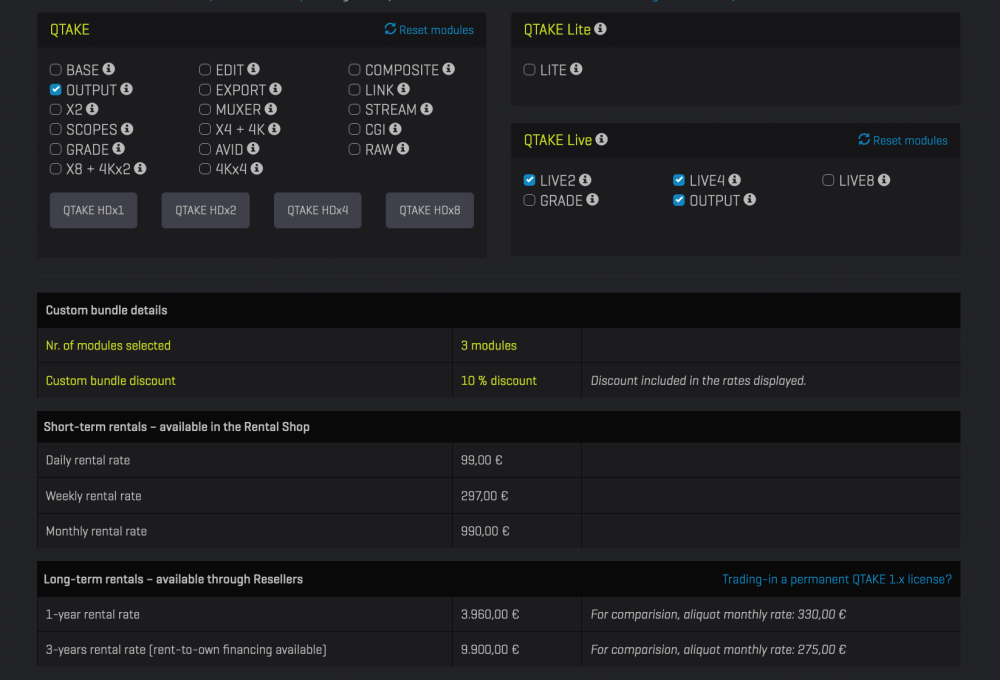 Posted on Jan 16, 2022
✅ What changes for me, an owner of a permanent 1.x license?
Nothing changes until March 2022.
When QTAKE Pro is launched, you can decide what you want to do next:
stay on the permanent 1.x license,
trade it in for a Pro license anytime between MAR-2022 and MAR-2023, to claim some of the special offers, or
just observe how QTAKE Pro is performing and decide whether or not to switch at some point in the future.
If you decide to stay on 1.x, you will still be getting free bug fixes and tech support. However, from March 2022, new features will only be added to QTAKE Pro. If the current feature set is sufficient for your work, you have no obligation to switch. You can use your permanent 1.x license "as-is" and if you'll ever need new features, you can just rent the short-term Pro license from the Rental Shop.
✅ Why is the change necessary?
The reason is simple: it is the only sustainable model for software companies. Since we have introduced QTAKE to the market, we have made a lot of significant improvements which we have never charged for. But new customers should not cover the software development and support cost available for all customers. The usage-based model is the only fair way of handling licenses. While we understand that you have made an investment some time ago, we also believe QTAKE has allowed you to land a lot of job opportunities and with the future development we plan for QTAKE, it will allow you to land a lot more. Our goal is to provide the best tools for professional filmmakers and hope you will enjoy our future development!
✅ Do I need to make any payment in March 2022?
Absolutely not. Switching from a 1.x license to a Pro license is not mandatory. Even if you decide to trade your 1.x license for a Pro license anytime between MAR-2022 and MAR-2023, you will get a free QTAKE Pro time with an end date set to MAR-2023. Check our trade-in offers to see if you are eligible for even longer QTAKE Pro bonus time or other perks.
✅ What trade-in offers will be available for owners of permanent licenses?
We have prepared several trade-in offers for owners of permanent 1.x licenses, who would like to switch to Pro between MAR-2022 and MAR-2023. We value each customer who has ever decided to use QTAKE and therefore there are no sharp cut-off times, the trade-in offers are valid until MAR-2023 and there are even some benefits independent from the date of your license purchase. Because the offers are variable, we have prepared a calculator for you to check what you are eligible for. Visit shop.qtakehd.com/2022 to try it out.
✅ I like permanent licenses. Can I still buy a permanent 1.x license?
Permanent licenses as per the latest price lists will be available for sale until the end of March 2022 (exact date to be confirmed). Starting March 2022, the permanent licenses will be discontinued. If you strongly prefer a permanent license with the current feature set, it's the last call to get one.
✅ I like dongles. Why will the dongles be discontinued?
QTAKE Pro will use a different licensing system, which provides activation and deactivation, therefore currently used QTAKE dongles will not be supported.
✅ Why will there be no 1.7 – 1.9 releases?
The numbering is for reference only. The current licenses are valid up to version 1.9, which does not necessarily mean that there will be a 1.9 release at some point. We expect there will be no release 1.7 because the bug fixes should follow the 1.6.xxx convention.
✅ What should I do once I decide to switch my 1.x for a Pro license?
Visit the Rental Shop, if you simply need to rent a Pro license on a job-by-job basis. As a rule of thumb, if you use QTAKE more than 4 months in a year, it is better to get a 1y or 3y rental plan instead of the short-term rentals.
If you are interested in getting the 1y or 3y rental plan, please contact your reseller. Once the payment is made, the rental plan will be activated as a virtual license in the Rental Shop, available under the rental account you specify. You will then be able to make free orders consisting of the rented modules/bundles.
✅ I still have some questions…
If you have any additional questions about the transition from 1.x to Pro, feel free to contact us.