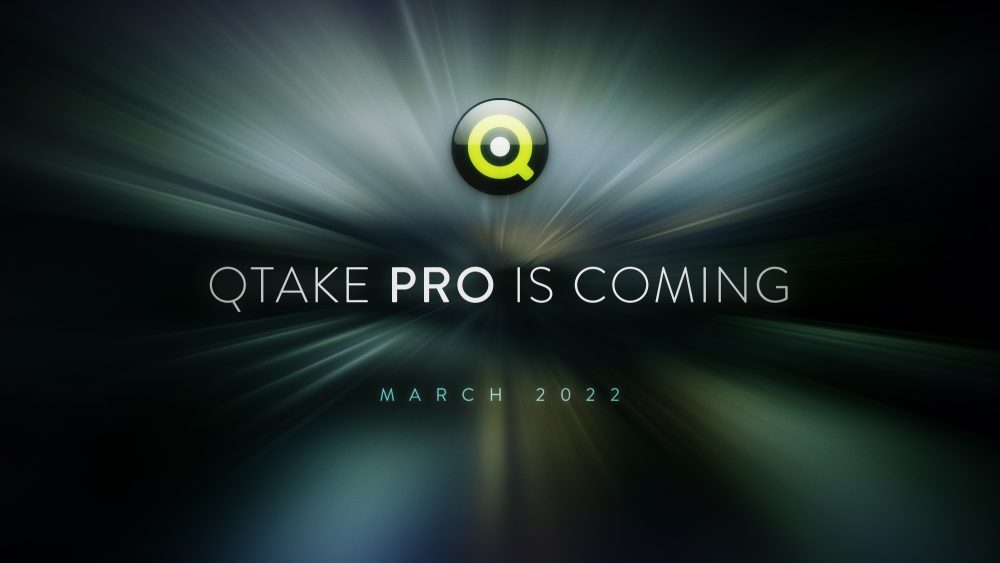 Our commitment to constantly improve QTAKE, to make it the most advanced solution for any kind of production, is stronger than ever. And in 2022 we will start a whole new chapter. Coming March 2022, we will launch QTAKE Pro – our vision of a future-proof tool, built on the latest technologies. New QTAKE, new features, new licensing options, user-driven product development. We have a lot of exciting plans and we will bring them to life during & beyond 2022.
Coming in QTAKE Pro
All future major updates included for free
Native Apple Silicon (M1) support
Unlimited streaming – PRO included in STREAM
Improved HDR support
SAML integration
License activation/deactivation
New 1y and 3y rental options via dealers
Custom bundles
Metal support
Monthly webinars / Q&As
Public roadmap with features voting
Priority tech support
… and more
FAQs
✅ What changes for a customer who owns a permanent license?
See our FAQs for permanent license owners (dongle-locked, virtual with/without blank dongle).
✅ What changes for a customer who makes short-terms rentals through the Shop?
Technically not much, all short-term rentals will be available as usual. But starting March 2022 you will get a lot more with every rental – see QTAKE Pro features. Also, if you use QTAKE for more than 4 months each year, you may want to consider getting some of the new 1y/3y rental plans to optimize the costs. For example, the monthly rate for the BASE module is $490, the 1y rental rate is $1,960 (= $164 monthly) and the 3y rental rate is $4,900 (=$137 monthly). The 3y rental rate is also available under the rent-to-own financing model.
✅ What changes for a customer with an ongoing rent-to-own (RTO) plan?
Customer support or your reseller will contact you to explain the options.
✅ Will all announced QTAKE Pro features be ready in March 2022?
Features ready for launch in March 2022: All updates included in the price of the rental, 1y and 3y rental rates available, License activation & deactivation, Native Apple Silicon (M1) support, Unlimited streaming (free PRO in STREAM), SAML integration, Custom bundles, Discontinuing permanent licenses and dongles.
Features to be added during 2022: Metal support, Improved HDR support, Priority tech support, Monthly webinars / Q&As, Public roadmap /w features voting and many more.
✅ Is it still possible to buy a permanent license?
Permanent licenses will only be available for sale until March 2022 (exact date to be confirmed). Starting March 2022, the permanent licenses will be discontinued. If you prefer a permanent license with the current feature set, it's the last call to get one.
✅ How will the 1y/3y rental plan of a Pro license work?
Start with placing an order with your reseller. Once the payment is sorted out, we will activate the rental plan as a virtual license in the Rental Shop, available under the rental account you specify. You will then be able to make free orders consisting of the rented modules/bundles.
✅ Does the new Pro licensing affect other products, such as QTAKE Server?
No. Only QTAKE Video Assist is part of the Pro change.
✅ I still have some questions…
If you have any questions, feel free to contact us.