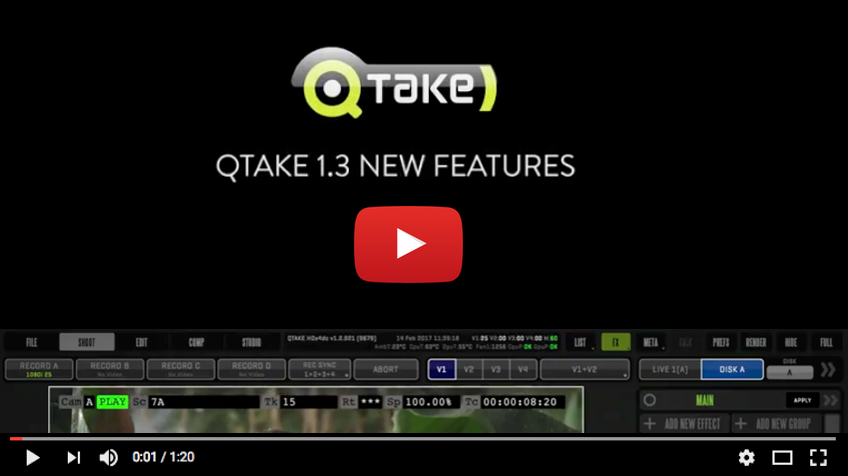 Please update your installations to QTAKE 1.3, QTAKE Server 1.3.1 and QTAKE Monitor 3.0.
New features in QTAKE 1.3
GRADE Module (paid upgrade)
Create stunning on-set color grades fast & easy with the sophisticated color correction effects. Unsure about your color artist skills? Do not worry. The COLOR MATCH filter extracts the look of the reference image and applies it to any shot. Why would you do color corrections in QTAKE and not use dedicated live grading software? Because each grade is attached to a clip in the database, just like all the other metadata. Because each grade is non-destructive and you can refine it anytime during playback. Because each grade can be transferred to second unit using QTAKE Server and they can use it to match the inserts.
FX Presets
Settings of each effect can now be stored as Presets and reused on any other shot. Preset can be named and saved in folders to help you organize your personal effect library.
FX History
You don't have to worry about storing versions. Each change is now automatically saved and you can go back to any step using visual browser that helps you dig into the effect stack history.
WEB View
How many times have your client pulled up the reference shot on Youtube or Vimeo? Now you can open any website directly in QTAKE View and send it out to external monitors.
Custom PDF Reports
Each project in QTAKE can have custom metadata that fits the job. Now you can create PDF templates to export any combination of metadata fields in a table or a flow layout.
VR View
Virtual Reality is here and QTAKE will support it. We are starting with the realtime effect that will convert equirectangular VR 360 video to simulate view through VR glasses.
Automatic Slider
No more manual dragging of WIPE effect to show the before/after difference. Automatic slider will animate over specified time from start to end values.
Custom SYNC
Four camera QTAKE can now synchronize recording, loading and playback of any combination of views.
Automatic Input Format Change
Assistant camera has changed the output format and forgot to tell you about it? That's all right. QTAKE can now detect input signal change and automatically set the input format to match it.
Security Improvements
This version brings improvements across the board to comply with the highest standards of security required by studios such as Walt Disney. QTAKE now allows you to securely approve new devices by scanning a QR code. To take advantage of this new mode, update your devices to QTAKE Monitor 3.0 for iOS and QTAKE Monitor 1.3 for Mac. For users of QTAKE Server, version 1.3 or later is now required.
New features in QTAKE Monitor 3.0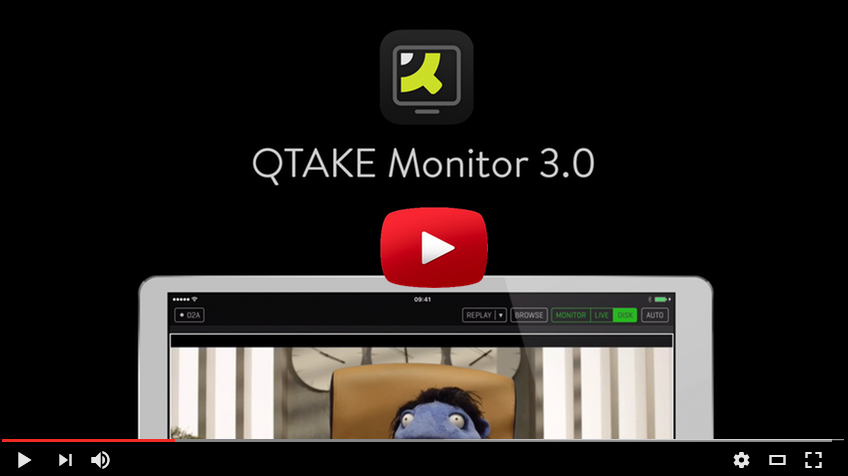 Download
To download the latest installers please contact us or your local reseller.
QTAKE Monitor 3.0 can be downloaded for free from the App Store.