We are happy to officially announce the new QTAKE Monitor app, which turns any iOS device into wireless on-set monitor. Very low latency of just 1.5 frames makes iPad/iPhone monitors practically in sync with the QTAKE GPU OUTPUT. In addition to dual camera monitoring, one QTAKE Monitor device can use TALKBACK feature to communicate with QTAKE Operator.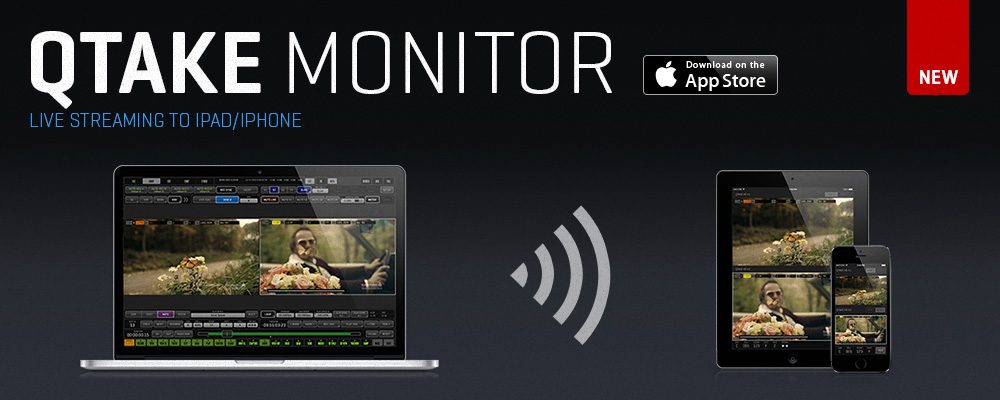 Features
Stream content of the QTAKE VIEWS to a maximum of 8 devices using QTAKE HD STREAM Module
Connect to one or two QTAKE HD Systems (tap and hold to select source)
Use the TALK button to communicate with the QTAKE HD operator
Monitor audio of the selected view (tap to select view)
Choose single or dual view mode (double tap to switch)
Save a screenshot to your camera roll with a two-finger tap
Display selected view on Apple TV or enable full display mirroring using MIRROR button (external display and AirPlay support)
Pricing
QTAKE Monitor app is free to download from the App Store, but requires QTAKE HD STREAM Module.
For more information about pricing of the QTAKE HD STREAM Module please contact your reseller.
Availability
New version of QTAKE HD (including the QTAKE Monitor functionality in the STREAM module) will be released later today.
Christmas bonus
Buy any of the QTAKE HDx1, HDx2 or HDx4 bundles until December 31, 2013 and get the STREAM module for free.
The offer is valid for both pay-in-full and rent-to-own orders.