What's new
QTAKE Server 2.3 and QTAKE Monitor 4.5 bring a simplified approach to access control and are solely based on user roles, dropping device management entirely. These new releases are setting off a series of changes planned for QTAKE Server, which will gradually introduce a more user-friendly design and use.
Previously, QTAKE Server access control was split between devices and roles. Some permissions – such as access to remote administration and metadata controls – were role-based, while others – like screenshots and downloads – were specified on a per-device basis. With these updates, the permissions are unified into a role-based system.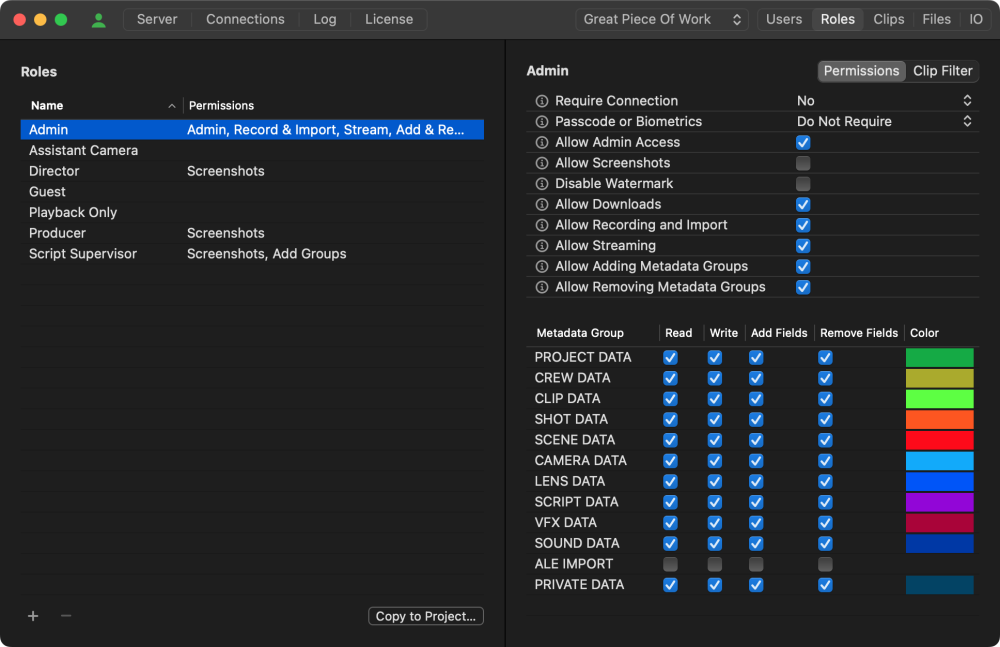 Action required
QTAKE operators: Permissions to take screenshots or download clips for offline viewing are now set under Roles. To be able to grant these permissions in your QTAKE Server projects, you will need to update to QTAKE Server 2.3.
QTAKE Monitor users: QTAKE Monitor 4.5 will be delivered automatically via App Store.
Compatibility
QTAKE Server 2.3 is fully compatible with all versions of QTAKE. However, after updating, QTAKE Monitor users accessing your projects will be required to update to version 4.5. QTAKE Stream and QTAKE Cloud Stream functionality is unaffected by these changes.
FAQs
✅ What happens if I don't update my QTAKE Server installation?
Since QTAKE Monitor updates are delivered automatically via App Store, most users will be running QTAKE Monitor 4.5 within the next few days. After that, they will lose some of their permissions, such as the permission to take screenshots. To prevent this, update to QTAKE Server 2.3 and grant these permissions where appropriate.
✅ Do I need to update all QTAKE Server installations at the same time?
For multi-unit productions, updating one of the servers is enough to give you access to the new role-based permissions. Update the other servers on the project at your earliest convenience.
✅ Is QTAKE Pro or QTAKE 1.x affected by these changes?
QTAKE Pro and QTAKE 1.x are unaffected and fully compatible with all versions of QTAKE Server 2.0 and later.
✅ I still have questions…
If you have any questions, feel free to contact us.