Most of the new functionality is dedicated to streaming. QTAKE Stream was designed specifically for professional filmmakers and gained worldwide praise for its ultra-low latency, frame-based metadata support, and studio-grade security. We are taking it to a new level with some great new features now and a surprise feature which will be announced next week.
New in QTAKE 1.6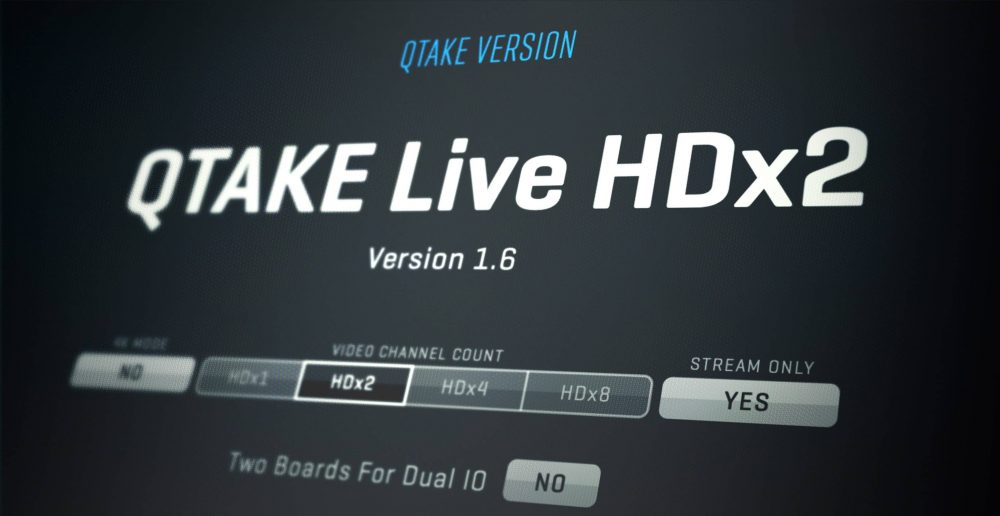 QTAKE Live
The new, simplified, stream-only version of QTAKE. In addition to multi-camera input and streaming, it provides real-time image processing, such as geometric transformations or color-grading. Simplified interface & budget-friendly pricing. Rental-only. Starting at $60 per day for the 2-camera version (Live2). Long-term rentals are discounted.
How to launch stream-only mode
Special and common Live modules
Hardware requirements
Rent a QTAKE Live license

Dolby Vision® Support
Experience the ultimate remote grading with QTAKE Cloud Stream HDR. In many cases, clients cannot attend editing or color-grading sessions in person and cannot rely on exported clips because of the slow turn-around. QTAKE offers a solution for interactive and effective remote grading thanks to its high-quality, low-latency streaming of Dolby Vision enabled content. Current Dolby Vision functionality is included in the GRADE Module.
Using Dolby Vision in QTAKE
Rent GRADE module license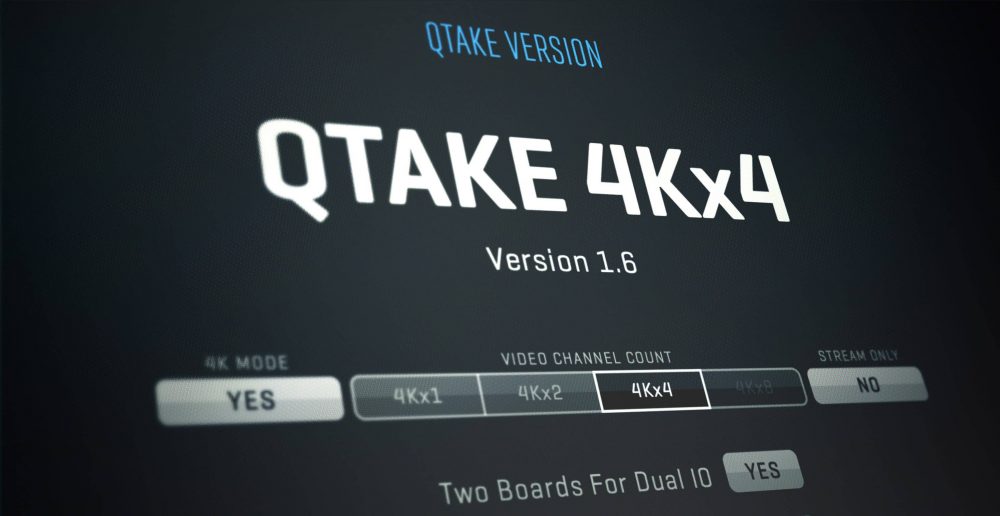 QTAKE 4Kx4
We are introducing the new add-on module for four 4K camera support. Four channel recording, playback, image processing, compositing, live editing. All in full 4K resolution. Requires X8 module and 4-channel 12G video interface. For low latency processed output with four independent 4K channels we recommend 4x QOD+.
Hardware requirements
Rent 4Kx4 module license
Learn more about QOD+
Also new in QTAKE 1.6
Input Devices
We have added resolution and frame-rate pickers to system input, such as web cameras, AJA U-Tap, and similar USB AV devices. Learn more.
ALE Import Templates
You can now store multiple ALE mappings as templates to provide fast and effective import of metadata from 3rd party systems. Learn more.
MetaCoder Audio Mode
New MetaCoder audio encoding provides robust transfer of the most important SDI metadata over any wireless transmitter. Learn more.
HEVC with Alpha
In addition to Apple ProRes 4444, a lightweight HEVC codec can now be used to import foreground video content with transparency (such as animated logo) and instantly create live or rendered composites. Learn more.
Improvements and Bug Fixes
QTAKE 1.6 also contains many improvements and bug fixes. To keep a better track of all changes in the current as well as previous releases, visit the new Changelog page.
Links
To download QTAKE 1.6, contact us or your local reseller.
To access the online user manual, click here.