Please update your installations to QTAKE 1.5.010.
New in QTAKE 1.5.010
Customizable OSD
Welcome the new OSD view effect which provides a realtime display of any clip, crew or project metadata. It uses the same templates as the Burn-In effect found in QTAKE's unique pipeline rendering engine, to allow efficient interoperability between live processing, playback and export.

Improved Streaming Setup
Streaming UI has got new GROUP functionality which allows you to control multiple clients using a single streaming slot. Additionally, you can now enable or disable stream views per client to send only specific view to the agency, while streaming all other views to your crew.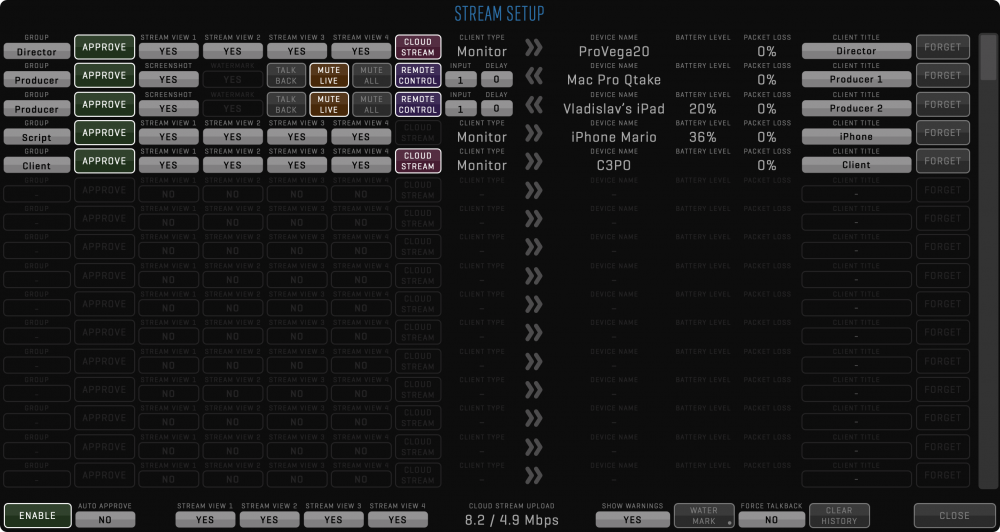 Other New Features in QTAKE 1.5.010
Added stream client connection logs
Added stereo option to AAC audio export
Added AVID markers to ALE export
Added media type selector to ALE export
Added warnings when running out of stream data
Improved file import and matching performance
Improved ALE import performance
Bug Fixes in QTAKE 1.5.010
Fixed crash with speed ramping
Fixed crash with ARRI RAW import
Fixed memory leak with Codex HDE
Fixed CMF extraction from Sony RAW MXF
Fixed possible crash when rendering CDL
Fixed crash with FX history
Fixed AVID media export issues
Fixed Contrast Curve effect in RGB mode
Fixed OVIDE SmartAssist audio in macOS 10.15
Fixed LUT coming from Live Grade Pro
Fixed long project loading times
Fixed AJA IoXT audio issues
Fixed AAC audio in M4V export
Fixed refresh of custom aspect MASK
Fixed 4K input with BMD video cards
Fixed LITE version showing trial watermark in view 2
Fixed missing media after XML export/import
Fixed memory leak with streaming
Fixed inability to change live camera letter
Fixes issues with clip range groups
Fixed issues with NDI audio
Fixed aborted record saving clip
Fixed QOD connection when plugging in USB device
Fixed frame recording
Fixed issue with stuck pipeline export
Fixed cloud streaming view 2 from HDx1
Fixed thumbnails issues
Fixed known stability issues
Links
To download QTAKE 1.5.010/QTAKE Lite 1.5.010 installer, contact us or your local reseller.
To access the online user manual, click here.