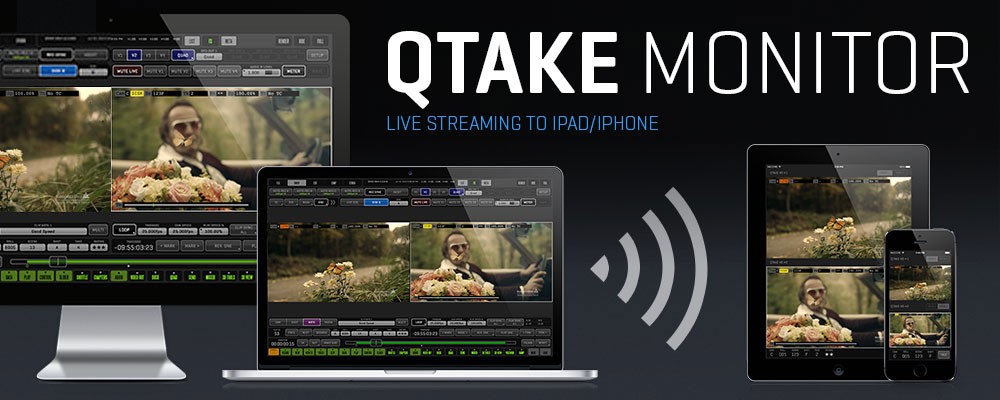 QTAKE Monitor simply turns up to 16 iOS devices into wireless on-set monitors. In addition to multi camera monitoring, one QTAKE Monitor device can use the TALKBACK feature to communicate with QTAKE HD operator.
QTAKE Monitor is the essential companion app of the most advanced video assist software QTAKE HD. Using the STREAM Module, operators can now stream the content of their QTAKE VIEWS to iPads or iPhones. Very low latency of just 1.5 frames makes QTAKE Monitor devices practically in sync with QTAKE GPU Output.
In addition to live monitoring, QTAKE Monitor 2 introduces a whole new approach to on-set collaboration. In conjunction with QTAKE Server, this version brings browsing, playback and collaborative metadata editing to any number of iOS devices on set using a local server or even anywhere in the world using a server running in the cloud.
Simply enter your email address and choose a password on your iPad or iPhone, then approve the account on your QTAKE Server, assign a role and you are good to go. The individual roles can have read or write access to a different set of metadata groups. This allows you to give different professions access to information they need in their work.
Revolutionize your workflow by creating custom note fields, single or multiple choice fields or ratings to enable everyone on set to enter relevant and well-structured data to facilitate better decision-making or just to make it easier to find the best clips.
Create collections or on-the-fly playlists in the new browser with advanced filtering options. Swipe over thumbnails to select multiple clips for playback or editing. Use multiple views on your iPad or iPhone to compare clips or play previously recorded takes while monitoring the live stream from QTAKE in another view. While playing, swipe up/down to advance to the next or previous take in the current shot or your current selection in the browser.

---

QTAKE Monitor is ColorTRUE Aware providing colour accurate viewing. Simply calibrate with the X-Rite ColorTRUE app (requires X-Rite calibration device). When finished, ColorTRUE automatically shares the calibration with QTAKE Monitor for accurate colour viewing.
Learn more about ColorTRUE:  xritephoto.com/colortrue
Need a device?  Visit xritephoto.com/displaycalibration